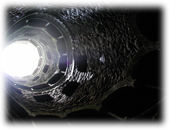 Of course many in Jesus' day could not receive his message. They rejected him and fought vehemently to protect their existing tradition. They saw him as one who was defiling the Jewish and social traditions of the day. Mark 2:16 reads: "And the scribes of the Pharisees, when they saw that he was eating with sinners and tax collectors, said to his disciples, 'Why does he eat with tax collectors and sinners?' And when Jesus heard it, he said to them, 'Those who are well have no need of a physician, but those who are sick. I came not to call the righteous, but sinners.'" And today, we have those same people with us. There are millions of people of various faiths who reject any effort to perceive their tradition with renewed vision. Many would not climb up the mountain of faith to see Jesus' message transfigured. They are quite happy with their "religion" and even try to impose it upon others. But, as we read from this passage, Jesus had a stern warning for these people. In Mark 10:31 Jesus says: "But many who are first will be last, and the last first." Therefore, those who see themselves as righteous and superior to others in their judgment and outlook, will be the ones who are the last to recognize Christ. Their righteousness robs them of the spirit of God and hardens their hearts. Jesus was first and foremost concerned about those who were seeking the truth, who had stripped themselves of all pretentiousness and falsehoods, who stood naked in poverty and humility, beholding themselves as they really are. These are the ones whom Jesus sought to teach and heal. In Matthew 5:3, he says: "Blessed are the poor in spirit, for theirs is the kingdom of heaven." He had bitter and harsh words for those who were cloaked with religion and tradition and self-righteousness. Nothing could pierce through their cloaks of ideology and social norms. The passage in Mark 2:16 just mentioned above suggests sarcastically to these "well" and "righteous" people that, unless they disrobe and become naked as little children, they will never see the Kingdom of Heaven.

In the Gospels, we clearly see Jesus' humanity manifested in an array of emotions and actions. Jesus wept, rebuked, loved, became angry, and forgave. He sang and danced and sometimes was completely silent. He was harsh with some and gentle with others. He was weak, in despair and conflicted at times and quite brave and invincible at other times. He is portrayed as having traveled the full spectrum of human feelings and having touched every key of potential human experience, from pure joy and peaceful contemplation to agony and despair. Herein lies the key to his "godhood." If we look at Jesus from any intellectual or logical angle, we see a paradoxical character full of contradictions and inconsistency that leave us perplexed and at a dead-end. Indeed, Jesus was and still is an enigma for many. But an intuitive approach to the person of Jesus reveals a beautiful, supple, poetic and intimate spirit that is easily approachable. Jesus' human characteristics should not be viewed here as faults – because orthodoxy claims that human nature is fallen - but as a link to our own humanity, to which we can relate. The idea here is that God showed himself through Jesus' humanity and likewise, humanity, in its most intuitive and innocent form – a baby in a manger - is a window to God. Humanity, after all, is said to be made in the image of God. Ironically, this holy journey to God is insurmountable to the orthodox believer because he is constantly looking for a mighty, sacred and spiritual gate to unlock, when in fact, he need only walk through that often ignored and rejected lowly door that is his humanity. Was not Jesus born under the most humble of circumstances? Did he not live a modest life? And the chalice of the Savior at the Last Supper, was it crafted of gold, adorned with jewels? No, it was a modest vessel made of ordinary materials, one from which anyone could drink.

Within all human suffering, conflicting emotions and uncertainty, there is a certain subtle, beautiful and rhythmic spirit; therefore, in the Jesus story, humanity becomes a bridge to the Divine. Moreover, from a traditional theological or religious standpoint, we are constantly attempting to "pin down the truth" and learn how best to think and behave and pray. But in the apocalyptic figure of Jesus, we see that the spirit of God is dynamic, not static, and tirelessly challenges our concept of the divine. Jesus reacts to life situations through spontaneity and moves in impulses that are directed according to the way of Greater Life. This dynamic movement of God is necessarily reflected in one's subjective experience and therefore cannot be concretized, formalized, theologized and fed to the masses.